The Music Makers Fund supports musical activities of all kinds in the communities of Mu Beta Psi Brothers across the country through the awarding of grant money. We aim to support a wide variety of musical endeavors, including:
funding for local musical organizations

supporting fundraisers for music and music education

the awarding of individual scholarships toward the study of music
For more information, visit our Music Makers Fund page.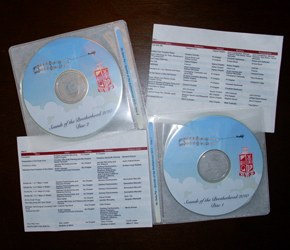 Music is what binds together every Brother of Mu Beta Psi. In 2010, Brothers Nick Rosencrans and Chris Ciarlariello put together a 2 CD set featuring music that involved Brothers. The songs came from college performing ensembles in which a Brother participated, recital recordings by Brothers, Chapter performances, even songs recorded by Brothers specifically for the CD.
These 1″ pin-back buttons come in 3 designs. Click the image to see all designs.
1 – A red heart with the letter "ΜΒΨ" inside and "Music Service Brotherhood" around the outside, all on a white background
2 – The coat of arms on a black background
3 – A close up of the top of the coat of arms showing the Books of Knowledge and Lamp of Learning, with "Music Service Brotherhood" around the edge , all in a beautiful sepia tone.