Welcome to the Mu Beta Psi Alumni Association! Founded in 1970, the Alumni Association is the largest Chapter in Mu Beta Psi. No longer attending school, but you still want to be involved in the many great things Mu Beta Psi has to offer? The Alumni Association is looking for you!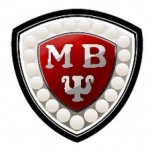 The Alumni Association welcomes all Mu Beta Psi alumni – it doesn't matter if you've graduated, transferred, or discontinued your education. No matter the circumstance, we're happy to call you our own. Please feel free to browse the page to learn more about recent happenings in the Alumni Association, understand our Chapter culture, and see the activities we take part in that make us so unique as a Chapter.
Best of all, for you "newbies"? Your first year of Chapter dues are waived! That's right, your local dues are completely free for a whole year. So, you interested yet? Check out our Membership page and get involved today!