The clocks have been set forward, spring has sprung, and another Mu Beta Psi Convention is in the books!
This year, Brothers from across the country descended upon Houghton, MI for the 2018 edition of Convention, "No Longer A Miner," put on by our striped and gracious hosts at Zeta Chapter.  For those who have not had the privilege of visiting Houghton, it's important to note that getting there is half the battle – it is 2 miles past the end of earth for those of you who didn't know.  Some Brothers opted for short plane rides in addition to long car rides just to get to Michigan's Upper Peninsula.  But neither cramped cars, long drives, whiteout conditions, or bridge tolls could stop this group.
Convention unofficially kicked off on Thursday night with the Alumni Association meeting taking place.  During the meeting, the Midyear location was voted upon and the AA is happy to announce 2018's Midyear Meeting will be taking place in the heart of the Great Smoky Mountains in Pigeon Forge, TN on Saturday August 4th.  Amanda Griffeth (K/AA) will be working with the Gathering Committee to ensure a weekend full of bonding, business, and Brotherhood!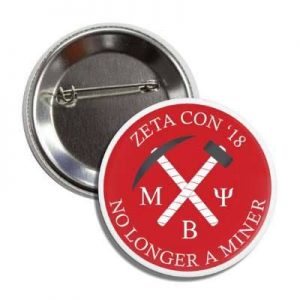 Friday brought the official start to Convention as well as various meetings and workshops held throughout the day.  On top of the regular business, the Alumni Association debuted the sale of collectible buttons among their sales of snacks, letter kits, and other goodies.  The buttons, of limited edition, were a hot ticket item and all 50 of the collectors items were sold within a few hours!  If you missed your chance to purchase one, supposedly there are some locked away in a hidden bunker to be auctioned off at future events.
On Saturday, the Brotherhood convened for the annual elections of National Officers as well as to conduct its National Business.  Our National Officers for 2018 are as follows:
National President – Ashley Ford (A)
National Vice President of Chapter Maintenance – Danielle Booms (Z)
National Vice President of Expansion – Scott Nelson (Z)
National Secretary – Rob Smith (Z)
National Treasurer – Tyler Jensen (Z)
National Historian – Nathaniel Kulyk (Ξ)
National Editor of the Clef – Natalie Holbrook (P)
Chairman of the Board of Trustees – Chris Ciarlariello (Π)
In addition to the election of new officers, Matt Zander (Z/AA) has also stepped down from his position on the Board of Trustees after years of hard work and service.  He cannot be thanked enough for everything he has given back to our Fraternity and we wish him the best in his future endeavors!  To replace him, a new Board member was appointed during Convention and the BOT as it currently sits will be made up of:
Bryan Reamer (Z)
Ben Griffeth (K)
Andy Fleming (Z)
Chris Ciarlariello (Π)
Danielle Booms (Z)
Congratulations to all of our newly elected officers!  We look forward to seeing how our Fraternity will continue to grow under their leadership in 2018!
Convention closed on Saturday evening with a banquet to honor our newly elected officials and to hear the pitch for Convention 2019.  During the banquet, Bryan Reamer (Z/AA) was honored for his 30 years of service to the Fraternity with a plaque and miniature replica of the Zeta Sledge.  It was also announced that Nick Rosencrans (Z/AA) had been named the 2018 Ralph W. Daniel Brother of the Year Award recipient for his work on the Fraternal Life and Conduct policy updates as well as his service to promote our four Purposes.
The annual Penny Wars fundraiser for the National Scholarship fund also took place and awards were given to the Alumni Association for "Best Decorated Jar," Pi Chapter for "Most Positive," and Zeta chapter retained it's crown for "Most Negative."  The t-shirt design for the 2018 scholarship fundraiser was also revealed and will go on sale in early April!  Nu Chapter presented their pitch to host Convention 2019 to the theme of "A Whole Nu World."  It was voted unanimously to allow Nu Chapter to host Convention 2019 taking place March 8-9, 2019 in Oswego, NY.  If you missed the pitch video, it can be found here.
Throughout the banquet, a silent auction was held to help raise money for the Music Makers Fund.  Some of the prizes included a week long stay at the Ciarlariello family vacation home in Cape Coral, FL, various U.P. swag, hand-made shoulder bags, and the ever-illustrious "Dimitrijeski Experience."  While some Brothers chose to dance off their meals, others chose to watch the WCHA Championship hockey game between Michigan Tech and Northern Michigan with the Huskies narrowly escaping Marquette with its second championship victory in as many years – much to the chagrin of the Rho Brothers in attendance.  The night and the weekend came to a close after the Gator had been danced and Piano Man had been sung.  The mascots had been stolen, the pasties were consumed, karaoke was sung, and surprisingly – not a single snowflake was spotted falling from the sky.  Zeta Convention came to a close as a great success and Brothers made the long journeys back to their homes.
We look forward to seeing you all at Midyear 2018 and Nu Convention in 2019!